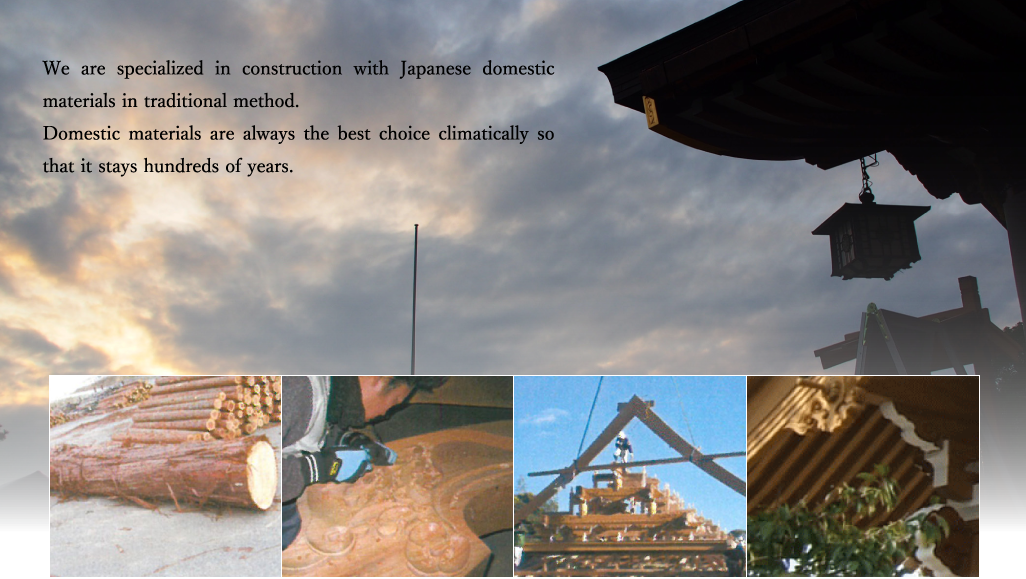 About KIWADA Construction
With Traditional Art and a Heart of Japan
Horyuji — beyond a millennial history —
Traditional solid technique and parts are made use of the historic National Treasure Temple, giving the construction the dignity of Japanese erection civilization.
Our suggestion of the centuries-to-stay temples and shrines is based on the profound study and utilization of the solid parts and history-proven technique. Imagine temples and shrines in big trees — where you get the peace of mind.
We sincerely undertake from design to completion with a number of specialized and skilled carpenters in solidarity.
KIWADA Construction Co., Ltd. Managing Director Kenji Kiwada
Suggestion of Peaceful and Relaxing Interior Space
Another mission, besides the study of the traditional temples and shrines, is to suggest the peaceful and relaxing interior space coordination.
Japanese economy kept prospering for 50 years after the War. Now it's 21st century, the economy is in chaos, men and women of all ages are restless, and the society itself is falling ill. People are eager for peace-of-mind and healing their soul more than ever.
We are happy to suggest such space coordination all together on request.
You can afford Domestic Materials with the Current Budget!
In late years it tends to rely on the imported materials because of the extreme dificulty to secure sizable domestic ones for temples and shrines construction. However, temples and shrines are Japanese precious property of spirit to hand down. It is obvious Japanese domestic materials are the most suitable for Japanese climate.
Would you say, "I wish I could afford it…"? If so, please get in contact with us before you completely abandon it. We are always happy to be of service to you.
Of course, we always make best effort to cut down the cost. Don't worry, rely on us!

Past Results
Temples/Shrines Construction Results
Please take a look at a diversity of temples and shrines we undertook; The Kengun Shrine (completed in April, 2000) may demonstrate the outstanding technique of our specialized carpenters.
Kengun Shrine, Tower Gate

Rebuilt to commemorate the 1,450th anniversary, its solemn appearance from the straight approach attracts many worshipers. Especially the zelkova-made tower gate, the warmth it gives, is of our boast. Completed in April, 2000

Gakurinji Temple – Mountain Gate

Famous for the west mound of "Musashi Miyamoto", as well as the grave of "Chikamasa Jou", the founder of Garden Plant Festival of Kumamoto begun in the Edo era. Completed in March, 1987

Daionji Temple

Kajiya-cho,Nagasaki-City,Nagasaki-Ken

Seifukuji Temple, Mail Hall

Temple at Tojimmachi, the seat of Kumamoto-shi, famous for the connection with Tokugawa family in Edo era. Presents a nationa-treasure-class Amitabha statue dedicated in Edo Tokugawa shogunate government era. Completed in April, 2000

Saiunji Temple

Matsuura-City,Nagasaki-Ken

Zenteiji Temple

Yokote-Machi,Kumamoto-City,Kumamoto-Ken

Sugawara Shrine

Hakuzan,Kumamoto-City,Kumamoto-Ken

Konshinkai Shrine

Oshima-City,Kumamoto-City,Kumamoto-Ken

Takahashi Inari Shrine

Jodai,Nishi-ku,Kumamoto-City,Kumamoto-Ken
Sculpture Business
We also mediate, produce and sell a variety of sculptures.
Pleaes consult us!
The Goddess of Mercy


Amida Statue


Amida Statue


Acala


Kaerumata(Dragon)


Shishibana